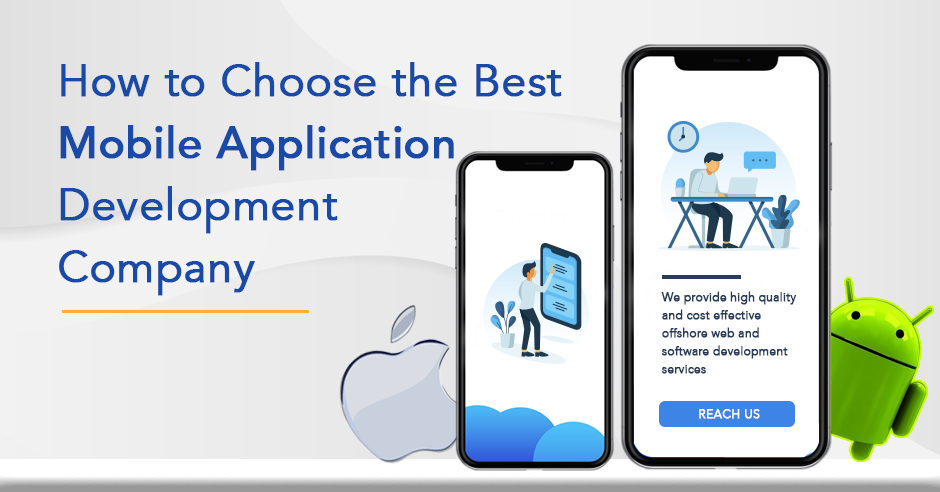 Published September 28,2019 by
Siva Davu
How to Choose the Best Mobile App Development Company?
Mobile apps are evolved to enhance user experience and business growth and these have become an integral and undivided part of any business. These apps add value to brands. First of all, spare some time on jotting down your app idea, business requirements, and do market research. However, the success of designing a high-performance mobile app for a business in this competitive world is dependent on the agency you choose.
These are a few factors to examine while deciding the best mobile app development company.
KNOW EVERYTHING ABOUT THE COMPANY
The portfolio will give you brief insights into the company and it is the first and foremost thing you have to assess in deciding whether you have to select that concerned company or not. Look at their
The objective of the business
Development platforms they have worked on
Number of apps they have designed and developed
Number of clients they have
Rank in SERP
Team sizes of UI/UX designers, developers, quality analysts, and testers
Location
Global delivery capability
The capability of developing mobile apps for diverse industries
Organization skills
WHAT IS THEIR TECHNOLOGY STACK?
Technology stack is the combination of programming languages, testing frameworks, interface designing tools, and databases.
The user experience, app security, performance, and robustness depends on the technology stack you choose. Make sure that whether the technology stack they use is compatible with all types of mobile app platforms (Android/iOS), the types of application (Native/web/hybrid/cross-platform), in providing security for the app, etc.
HOW OLD IT IS?
Experience matters. The more experienced the developers are, the more they are expected to have the hands-on expertise to solve and resolve technical issues.
The company's age is not a sole indication of their experience. check for the number of clients they have dealt with. That reflects the experience.
Select one of the best Android app development company who has excellent skills in UI/UX design. This expertise comes when they have worked on different projects. Then only, they can tell you what criteria or platform or features works better for your business requirement when you share your app idea with them.
The designers should adept at programming languages such as C, C++, PHP, HTML, Swift, Objective C, and java; have in-depth knowledge on Application Programming Interfaces (API), UX/UI design Skills, profound at agile methodologies, expertise on both front-end and back-end development, have cross-platform capabilities, expertise in SDKs, libraries, development tools, and frameworks. They should have hands-on experience in both front-end and back-end development.
At the front-end: It is the part of development where users interact with the application. XML and Android(Java code) are used for this purpose. Ascertain that the designers provide a good navigational application.
At back-end: It involves database management, security, hardware management, memory and storage utility.
As mobile app development trends and technologies change, the designers and developers should be in-tune with the updates on cutting-edge technologies like Artificial Intelligence (AI), Augmented Reality (AR), Virtual Reality (VR). Check whether they are or not.
HOW ARE THEY MANAGING DEVELOPMENT PROCESS?
The thing is here to observe the process and stages involved in developing a mobile application. Analyze their practices in the software development life cycle. Know their milestones, software development metrics, risk mitigation methods, the time taken to these stages to meet your overall app requirements.
TEST THEIR TESTING, QUALITY ASSURANCE SKILLS
Testing skills are very essential to produce flaw-less and 100% bug and error-free mobile app. Ask about the testing metrics that help in providing intuitive and robust applications.
DO THEY PROVIDE IMPECCABLE SECURITY?
Security is the key. These days, we have been coming across Cybersecurity issues and hacking. This factor is most crucial in the case of large business platforms such as e-commerce. The developers need to guarantee that they provide privacy and security to the data, monetary transactions, etc. If this factor fails, your customers find no point to use your app.
WHAT WILL BE THE DEVELOPMENT COST?
If you have less budget, then opt for a company that provides cost-effective apps. However, don't compromise on the quality of the app. Remember that iOS app development is a one-time investment. Even if you pay more on the app now, it evens out in the long run. So no excuses for the quality because of budget constraints.
SUPPORT AND MAINTENANCE
Make sure that whether they continually support and maintain your app after deploying it on app market places.
INTERACT WITH THE CASE STUDIES AND TESTIMONIALS
Case studies and testimonials act as word of mouth. Study all the previous mobile apps, the number of their app installations on the Play Store and App stores, apps' performance and reliability. Try getting in touch with their previous clients, especially your business-related clients and talk to them and get an idea about the company.
COMMUNICATION:
Last but not least, evaluating these things are not enough. You have to meet them and have an in-person discussion for more details and confirmation. Choose a that is named in Clutch, Good firms like Tvisha Technologies that deliver exquisite solutions for any business irrespective of type and brand.
CONCLUSION:
Mobile app development wanders mainly around the excellent UI/UX design. Moreover, the aforementioned factors are needed to account. Only after looking into these factors, give your app idea into their hands.
Never hurry! A proper assessment will direct you to a good company that produces an app that has the power to drive your brand to great heights.
I hope it helps.
Feel free to reach our mobile app developers if you want any assistance.
accept chat