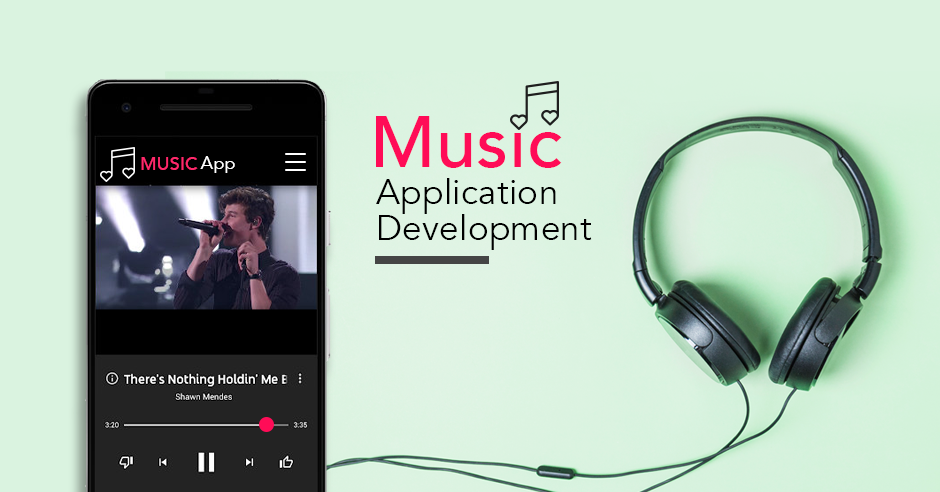 Published July 31,2019 by
Vrushanjali Thippabathula
Cost And Features Of Music App Development
The complete guide to music app development
These days, music has become the heart and soul of everyone in and around the world. It is hard to find anyone who does not tap their feet along with the rhythm of the music beats. It has been the best healer for many lonely hearts, a stress-reliever that pacifies the strained souls and an added energizing syrup for all the existing active spirits.


There are several users who are interested in a variety of music like melody, fast beat, etc. Diverse genres of music to appeal to patrons with different tastes are currently available over the internet. To enable this to reach to the ears of patrons and thereby create a brand name for self many organizations are aspiring to set foot into this
Music app development.
It is very much impressive to know the fact that everyone has now swapped to online music applications instead of downloading the songs as it is a time-consuming process. Nowadays mobile applications have carpeted almost every domain and aiding businesses with enhanced interaction with their customers. Leading-edge technologies have molded the way users associate with music. And now everyone is preferring the online medium to listen to music than the other ways.
Music app development comprises numerous features where a user can listen, set their playlist according to their choice, download their favorite songs offline, etc. The primary reason for the increase in utilization is they provide the greatest user experience that makes a user get completely connected with the application.
How To Develop A Music App
If you are desiring to kick into this music app development, remember that your applications should be unique from those that are already in the play store. Your application should render seamless user experience to all the customers who are going to install your application. Moreover, your application should handle the technical aspect of streamlining the music files simultaneously without any delay. It may look like a very simple process but trust me it is a very difficult task to streamline all the songs from the cloud to the app.
Features Of A Music App
1. Acquire information about what you listen:
This feature allows the user to view the album from which the song is being played and also displays some extra songs of the same artist.

2. Playlist Revival
What if your user accidentally deletes the playlist that he has created? With this feature, your user will recover their playlist. By simply logging into their account in the web client they can revive their playlist by clicking on the "Revive playlists" option. Now your user will get back the created playlist and they can now constantly listen to their favorite songs on repeat mode. Sounds interesting right?
3. Enjoy even when you are offline
Yes, you have heard right! Your users can now listen and cherish their favorite song even without having access to the internet. However, this feature is exclusively accessible only by the premium subscribers. They can download as many as 10,000 songs. This will definitely help in saving your data and you can listen to music at any place. Sometimes your user may not get the signals of mobile data and it is also beneficial in such cases. So make sure to include this feature in your music app development.

4. Get the pleasure of listening to music in accordance with your choice
This feature renders your user with the music of different qualities. Your user can select their desired quality of the song like 96kbps, 160kbps, 256kbps. A special quality is available from the premium users that is 360kbps. It is good that your application will engage both types of users effectively. Whatever type maybe your user, they can get a seamless user experience with your app.


5. Playlist Suggestion
This feature promotes the best personalization for your users. Your user will be getting the suggestions regarding the music based on their past preferences and browsing. The classification is performed depending on the recent and current playlists. Subsequently, your users will be acquainted with the fresh releases of music as per their selections. When you are in the initial stages of music app development then we advise you to give high priority to this feature. Of course, it is also highly recommended by numerous online users.


6. Subscription Ranges
Your app should offer various premium subscriptions by keeping the diverse user base in mind. You can either offer your ser with a thirty-day free trial to make your users familiarize with your services. You can provide your users with different subscription ranges. It will be better if you customize the subscription plans according to the different classes of people. This will make your application reach to all the groups of people efficiently.
Make sure you incorporate several payment methodologies for all the platforms when you are going to start your music app development. Also, including the payment modes like credit card or debit card, payment through the wallet will attract the users as they may not have all the sources with them. So we advise you to integrate BillDesk as it functions effectively.


Cost To Develop A Music App
The cost to develop a music app completely varies with respect to the complexity of the features. If you want to be the app to be at its best then you should be prepared that it will require some huge amount. If you are aspiring to build the application on multiple platforms with enriched features then it may necessitate some extra money. Also, your budget depends on the mobile app development company that you are going to hire. It is a well-known fact that your app must give an incredible experience to the users so keep this factor in mind while planning your budget. We recommend you to keep a note of all these factors in mind and plan your budget accordingly.

It may seem expensive initially, but will surely become beneficial in the long-term
Summing up
Create your application my amalgamating innovative ideologies and contemporary technologies. Make certain that our music app is unique when compared with others. Perform a clear analysis of the current market trends and discover what all those applications are lacking and incorporate that missing feature in your application. This will definitely make your app to stand on the top in the crowd. Make use of the above-mentioned guidelines when you are going to step into this music app development. On top of everything, you must have a clear scheme of what you want. We hope you success and triumph in what all you do.

Meta1:

Music has become our daily routine and there is not a single thing we do without playing songs in the background. This is what that has lead to the music app development. Here we discussed everything related to the development of music apps.

Meta2:

Gone are those days when all of us used to download the songs from the browser and waited patiently till the completion of the whole process. Now the scenario has completely transformed, and the reason is the music app development. It is very hard to store all those songs in your phones' memory. Now you can listen to everything online. By just having access to the internet you can play your desired song. Here we discussed the features and cost to develop a music app.





accept chat